Microsoft Azure
Choose your own path to modern, with flexible, familiar, and trusted solutions for your business—desktop to mobile, server to cloud.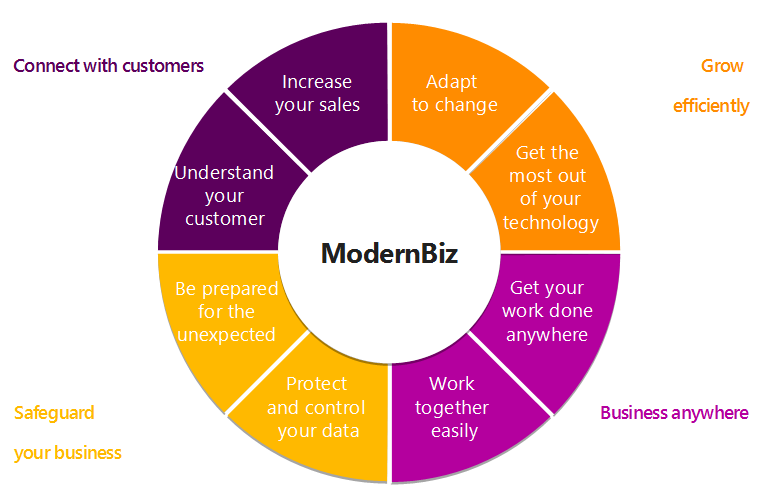 ---
The cloud platform for the modern business
Microsoft Azure is a flexible cloud platform that helps you grow with greater efficiency and be more responsive to move up.
With Azure, you can be up and running fast, scale up or down as needed, and avoid high capital costs—paying only for what you use.
---
Azure global datacenters
24 x 7 x 365 support Over 1 billion customers, 20 million businesses 90 markets worldwide. 280 years of combined industry experience in infrastructure, security, product dev, and global ops.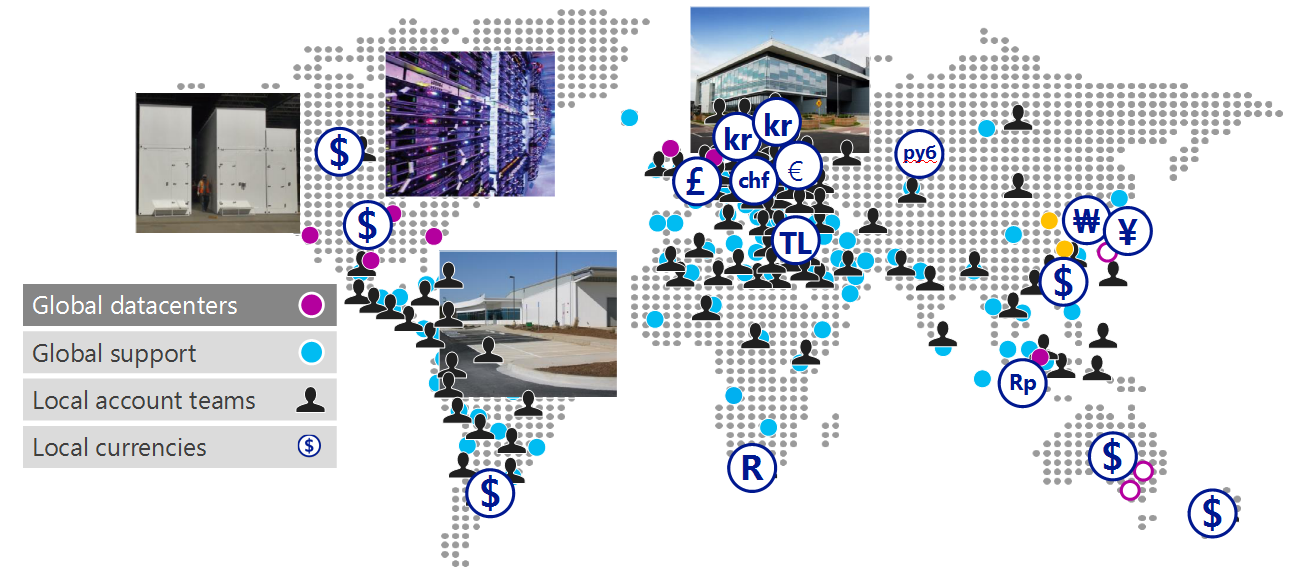 ---
The cloud: extending your IT infrastructure
The cloud is about instantly expanding your IT capabilities
The cloud is ideal when you need to:
Get apps up and running fast
Scale instantly
Pay only for what you use
Leverage enterprise-level security
With Microsoft, you choose the combination that's right for your business:
Physical Server
Virtualization
Cloud
---
Host your apps in the cloud with Microsoft Azure
Deploy quickly
Avoid capital expense
Scale up or down as needed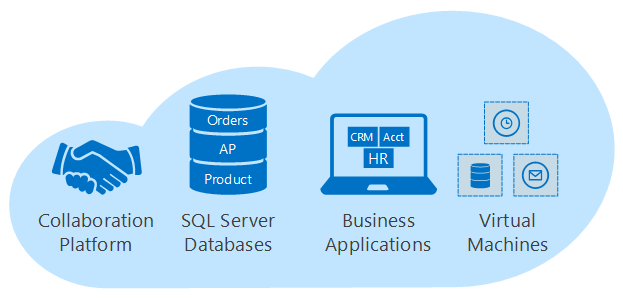 About Microsoft Azure
Cloud Security
Fully managed and monitored infrastructure
Data backed up in a choice of geographies
Robust physical security and data protection
Get the same level of protection chosen by Microsoft's enterprise customers, including many of the world's largest financial institutions.
---
Is your data backed up?
Many businesses lose critical data when primary data storage becomes damaged or systems failure occurs.
Effective data backup often requires significant capital investment in hardware and backup media.
---
Get simple, reliable backup in the cloud with Microsoft Azure
Back up your files and data to the cloud, simply and affordably
Avoid capital expense for storage hardware & media
Scale up or down as needed and pay for what you use
Get enterprise-grade data protection
---
Easily backup your on-site SQL Server database to the cloud
Get fast, easy backup for your database with SQL Server and Microsoft Azure
Automate database backups to minimize data loss
Encrypt your backup files for added protection
Restore to the cloud if on-site servers are down
---
How much is your website costing your business?
Many small and midsize businesses host their own websites on an on–site server, which can cost money… and customers
Unexpected downtime Poor performance Lacking security IT and hardware costs
---
Offer a great customer experience by hosting your website in the cloud
Provide a reliable, satisfying, more secure customer experience without the need to invest in costly infrastructure.
High availability
Fast, responsive performance
The latest security and protection
Premium resources at budget prices
---
Why Microsoft?
Single vendor across clouds – private, public and hoster
Single point of support for infrastructure, OS, services, and applications
Tenured experience and enterprise credibility
Single vendor for Infrastructure-as-a-Service (IaaS) and Platform-as-a-Service (PaaS)
SharePoint, SQL Server, and Windows Server run best on Microsoft Azure
Try Azure now!