Issues with Existing EHR Solutions
There are over 1,000 EMR platforms out on the market today. Some are big players with recognizable names, but many others are smaller vendors which provide custom solutions for specialists.
Too many choices, too many compromises
Functionality varies greatly from system to system, and is frequently limited and/or slow
Data entry is often cumbersome, inefficient and not user-friendly
Many solutions are highly proprietary, and often don't communicate well with other systems
Lack of interoperability inhibits transparent communication of health information
The more well-known brand name solutions are either cost-prohibitive or require significant retooling of a clinic's existing business operations/practices
Patients Deserve Better
Physicians complain current systems prevent adequate coordination of care, and interfere with, instead of facilitate, physician-to-patient and physician-to-physician relationships.
Providers believe many EMRs degrade clinical documentation, adversely affecting clinical care by making interactions less personal and consuming valuable face-to-face time.
Systems unable to connect easily with each other or share patient data impede adequate coordination of care (small scale) and obstruct population health management (large scale).
As organizations adopt legacy systems and referral patterns change, providers who are network-enabled are favored which puts other, independent providers at risk of being marginalized
There's also the growing pressure for physicians to meet state and federal health IT mandates. In an environment where there is already a shortage of primary care physicians, there is concern that EMRs will heighten physician dissatisfaction and drive a further shortage of physicians.
EXISTING EHR SOLUTIONS ARE COMPLEX
Enforcing a "one system fits all" approach leads to cumbersome and inadequate software solutions which hospitals and clinics are forcing upon providers.
"Meaningful Use" criteria, mandated by the government, dictate the way patients are being treated and impede rather than help in the treatment process.
Support for recent regulatory compliance modifications and coding repository updates are complex and costly.
Delivering an Affordable Solution
Symphony delivers the majority of features demanded by current and potential EHR customers. Using cutting-edge technology and tools, and healthcare providers as core matter experts for functional specs and usability, our team developed a scalable, cost-effective, and user-friendly solution capable of eliminating the barriers to improved healthcare and affordability.
Enabling quick access to patient records for more coordinated yet efficient care
Making prescribing safer and more reliable
Reducing costs through decreased paperwork and reduce duplication of testing
Lab and Imaging Integrations
Online Appointment Booking
Patient Portal with Secure Messaging
The EHR market is changing, and physicians are more educated and demanding than ever when it comes to selecting their ideal EHR system. Symphony improves all aspects of patient care – from safety and communication to timeliness – and enables healthcare providers to make faster, better, and more informed clinical decisions by consolidating all aspects patient information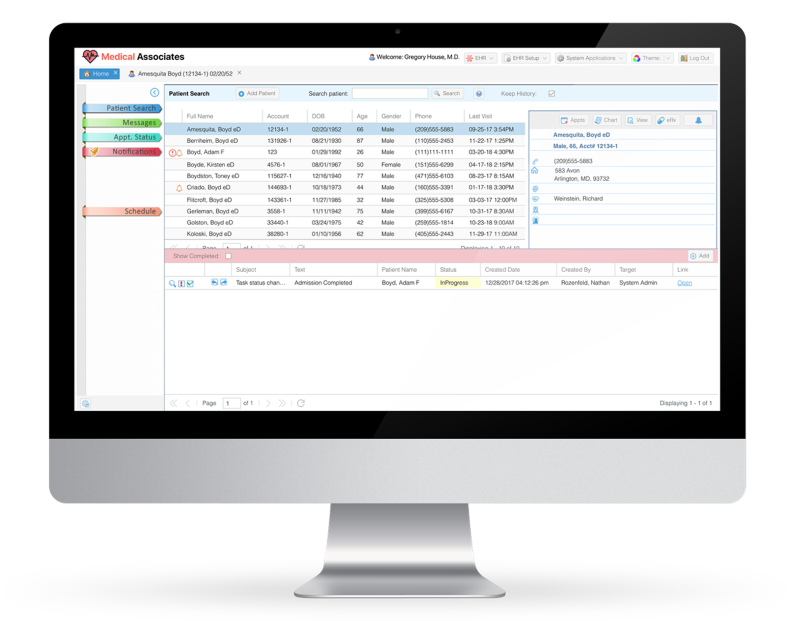 Symphony Key Features
Configurable to specialized practice needs
Preloaded with specialty workflows, templates and content
Enables handling of diverse paper and digital content
Reduces need for additional staff and manual operations
Low cost of ownership
Paves the way for Meaningful Use compliant records management without costly certification efforts
Specialty Workflow with Custom Views
Easy to Navigate and intuitive GUI design
Ability to personalize views
"Less is more" – presentation design
Enhance physicians' ability to provide high-quality patient care
Promote care coordination
Offer product modularity and configurability
Promote interoperability and data exchange
Facilitate digital patient engagement
Expedite user input into product design and post-implementation feedback
Poor EHR design gets in the way of face-to-face interaction with patients because physicians are forced to spend more time documenting required information of questionable value. Features such as pop-up reminders, cumbersome menus and poor user interfaces can make EHRs far more time consuming than paper charts.
Instead, EHRs should be designed to enable physician-patient engagement. Technology should fit seamlessly into the practice and be based on work flow needs.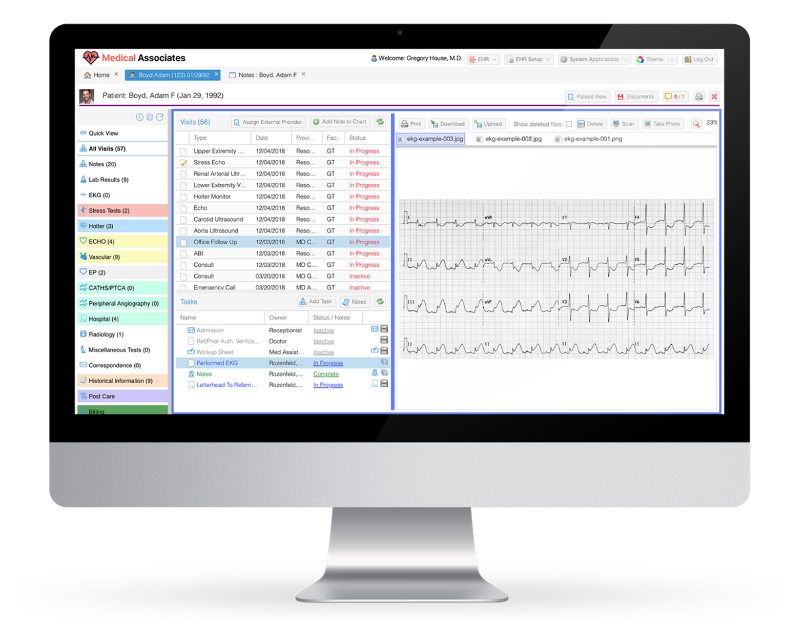 Speciality Workflow with Consultation / Follow-up Work Bench
Symphony EHR built to accommodate physicians' practice patterns and work flows, which vary depending on size, specialty and setting. Making EHR systems more modular would allow physicians to configure their health IT environment to best suit their work flows and patient populations. Allowing vendors to focus on specialized applications also would produce the tailored technology physicians need.
Although physicians spend significant time navigating their EHR systems, many physicians say that the quality of the clinical narrative in paper charts is more succinct and reflective of the pertinent clinical information. A lack of context and overly structured data capture requirements, meanwhile, can make interpretation difficult.
Symphony Specialty EHR support medical decision-making with concise, context-sensitive real-time data. To achieve this, we created sophisticated tools for reporting, analyzing data and supporting decisions. These tools should be customized for each practice environment.
Symphony EHR designed to support digital patient engagement. By incorporating increased interoperability between EHR systems and patients' mobile technologies and telehealth technologies promotes health and wellness and managing chronic illnesses.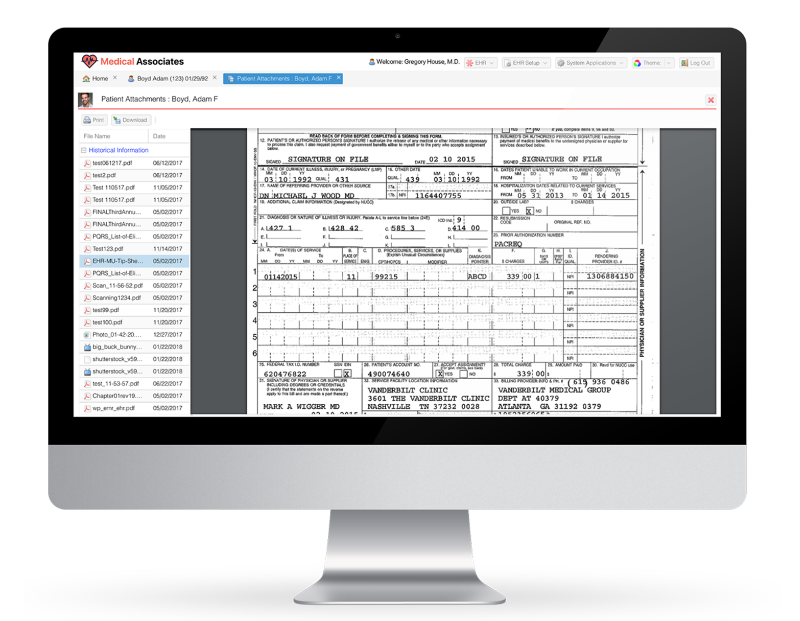 Specialty Workflow with Content Management
Data "lock in" is a common problem. Symphony Specialty EHR will facilitate connected health care across care settings and enable both exporting data and properly incorporating data from other systems. The end result should be a coherent longitudinal patient record that is built from various sources and can be accessed in real time
Affordable and transparent approach to the pricing and cost of ownership makes Symphony Specialty EHR affordable and easy to manage and support comprehensive solution. Investing in EHRs can seem ironic when one of our major concerns in healthcare is skyrocketing costs. System-wide implementation of best-of-breed EHR systems, can run in the hundreds of millions of dollars. Beyond the up-front investment, budgets can also be blown by unexpected vendors' fees, upgrades or ongoing maintenance needs. Unfortunately, it's not uncommon these days to hear of hospitals going bankrupt as a result of underestimating their technology spending.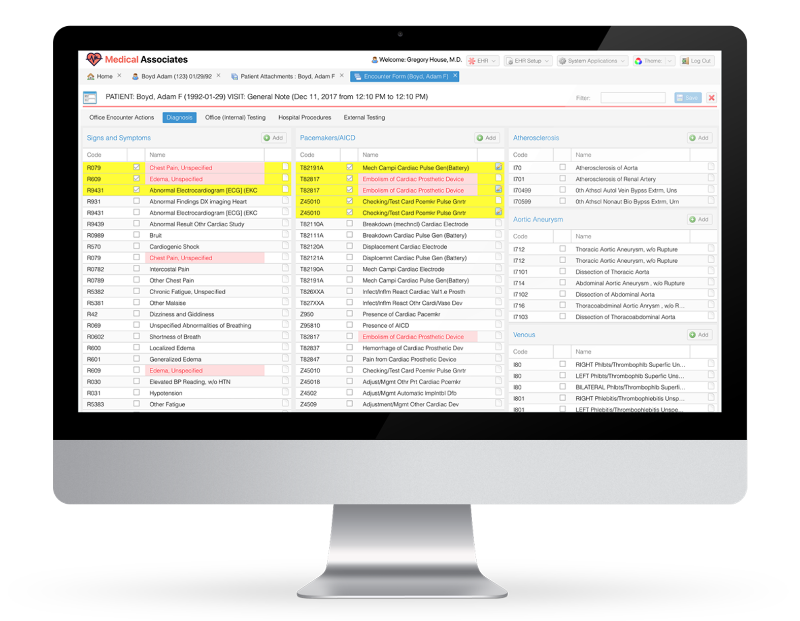 Interested in a Symphony demo?
Just fill out the form below
and we'll get back to you right away!